About Lianne Tio
Lianne Tio holds a unique position in perfumery, not just in The Netherlands but far beyond. In 1999, Lianne launched the first Annick Goutal store outside of France, appealing to both the connoisseur and the aficionado, with a premium selection of original and exclusive fragrances that stood out for their craft, quality and authenticity.


My life's passion is niche perfumery
After introducing the first niche boutique in The Netherlands, Lianne Tio made it into a resounding success, acknowledged by a national award for excellence in service the very next year. In the years after, interest in niche perfumery boomed, and other stores also began to add niche perfumes to their assortment. However, Lianne Tio Parfums in Rotterdam remained a singular and unique option for perfume lovers: Lianne Tio's wealth of knowledge, her dazzling, warm personality and engaging approach, as well as the luxurious charm and elegance of the store, transformed any shopping experience into an indulgence.
In 2013, Lianne Tio Parfums received The Launch Event of the Year Award from the prestigious British perfume house Clive Christian. The boutique was held as an example for excellence to other retailers of Clive Christian perfumes, in Europe as well as in the Middle East. This recognition was truly the jewel in the crown for Lianne's exemplary boutique.
In 2019, Lianne Tio progresses further on her journey with a new concept store in the very heart of Rotterdam: La Cour des Parfums. Anyone curious about fine perfumery will find a lush oasis here, with a selection of exquisite, daring and innovative perfumes in an enchanting ambiance, presented and supported by Lianne and her team with passion and unparalleled expertise.
You are all warmly invited to come and visit us at Weena 105, Hofplein, Rotterdam.
Launch Event of the Year Award
The prestigious British perfume house Clive Christian awarded Lianne Tio "The Launch Event of the Year Award" in 2013, setting her boutique as an example to other Clive Christian Perfumes retailers in both Europe and the Middle East. A jewel in the crown of this beautiful store.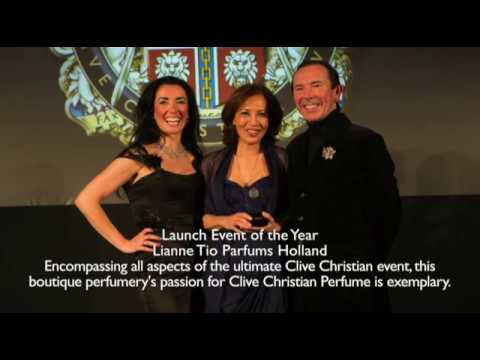 Lianne's Favourite scents

"Without perfume the skin is silent."
"Wearing perfume is a way to express your personality as a statement to the outside world. It provides confidence and protection, it makes me happy and makes me feel attractive.
Beautiful perfumes evoke joy, pleasure and other emotions that are kept in your library of scents that you build up during your lifetime. Sometimes it can elicit an emotional shock when it reveals your 'inner you'. It is a fascinating process that takes place in the limbic system, a part of the brain that controls emotions and memory. It is a kind of instant messaging system that generates your feelings and emotions beyond your control."
- Lianne Tio - interview People in Perfumeland
Personal advice from Lianne Tio
Personal perfume tips and tricks
The history of perfume
Special facts